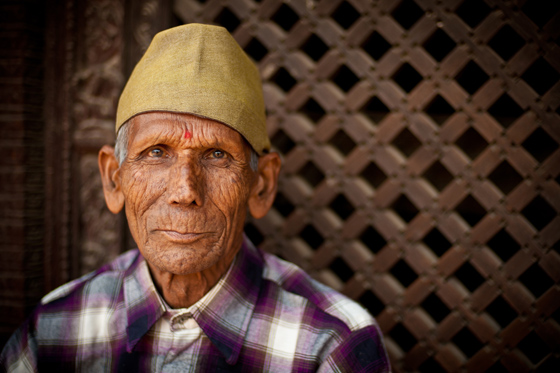 People always make an impression on me.  I visit a lot of places but it's always the people that define that place for me.  I'm too much of a people person to not be a portrait photographer at heart.  Don't get me wrong, but put Mount Everest infront of me and I'm going to be stoked out of my mind to shoot it.  The problem is that I can't really have a conversation with a chunk of rock, a beautiful view, or an impressive piece of architecture.
Two months ago I was in Nepal finishing up the last three days of our Tibet, Lhasa, Everest Overland Workshop.  The people of Nepal are absolutely beautiful.  One of the most rewarding parts of the tour for me was hearing people tell stories about their images – when someone shows you the picture and then starts in on the conversation they had with the person and how the image was formed through a process of human interaction.
For the most part I vividly remember the stories and conversations behind my portraits.  I love having those conversations because they turn me from a photographer into simply a human being – someone who cares enough to talk to them.  Not to mention that interaction ends up showing favorably in my images.  The images that I know the subjects name, where their from, what we talked about, etc are always my favorite – the ones where I don't have that interaction mean very little to me.  It's missing the human component – it's missing some part of the story.  I get the sense I'm missing out on knowing a part of that persons story and that fact has the capacity to make the image feel hollow for me personally.
This isn't a rule I always stick to;  some "moral high ground" I'm trying to take and it's not even possible all the time.  I'm not making a judgement on those who never interact with the subject.  I'm simply saying that the images of people I have interacted with are my most memorable – and why not take a second to value the person just as much as the image, if not more?