I'm happy to have my good friend and cohort, Matt Brandon, on the blog today talking about our last Tibet workshop together.  We at Plateau Photo Tours are excited to have Matt back again this year from what will be an amazing trip.  We spent a little time discussing our experience in Tibet and decided to write a bit of it down.  It's a special trip, and if you are interested in this years tour/workshop we have just a couple spots left.
Check out more of Matt's images from Tibet.

This is the second time you've been to Tibet teaching. Are you excited to go back?
Of course, I'm very excited about returning to TIbet. Tibet is one of those magical places that feels like you're stepping into – and photographing – a fairytale. From the towering Himalayan peaks dotted with Tibetan monasteries to deep river gorges it's a place like no other on the planet and one I can't wait to get back to.  I'm excited to visit Garze prefecture and all it has to offer.
What was your experience the first time like?
I've traveled many places around the world so there are very few things that I haven't seen. But I experienced so many "firsts" on this trip. It was my first time to sleep at 17,000+ feet. It was my first time to see Mount Everest close-up. Having such an experienced guide as Jamin and your years of photographing Tibet was a real bonus for me. Of course I can handle a camera pretty good ; ) but there is no substitute for local cultural experience. And on this trip it was plentiful.
What are you looking forward to the most
There's nothing like photographing mountain cultures. I love photographing in the Indian Himalaya but there's something uniquely different about the Tibetan plateau. I am thrilled to the point of almost being like a giddy schoolgirl as I think about my return to such an amazing locations as Tibet and China.  I'm excited to get to meet up with more pilgrims and nomads.  That culture is just fantastic.  And the people of course! It's such a great experience all around, though.
Show us one of your favorite images and tell us a quick story about it.
We were visiting the Jokhang in Lhasa and found a little monastery that is right in the middle of this pilgram route — it was packed full of pilgrims at the time. It was so crowded that I could hardly raise my camera to photograph. So I chose to find a quiet corner sit down and just watch as the Pilgrims filed through or sit and pray. This one particular old lady had a weathered look that so many of the Tibetans had. But she also had an almost angry look about her. I watched her for sometime sit and spin her prayer wheel. She would turn, look at me and smile and then go back to that fixed frown on her face. I wanted to catch her intensity and the movement of her prayer wheel. So I cranked up my ISO to 2500. Used my 16 – 35mm at 16mm and got right near her and shot at 1/5th of a sec hand held. Crazy, but it worked.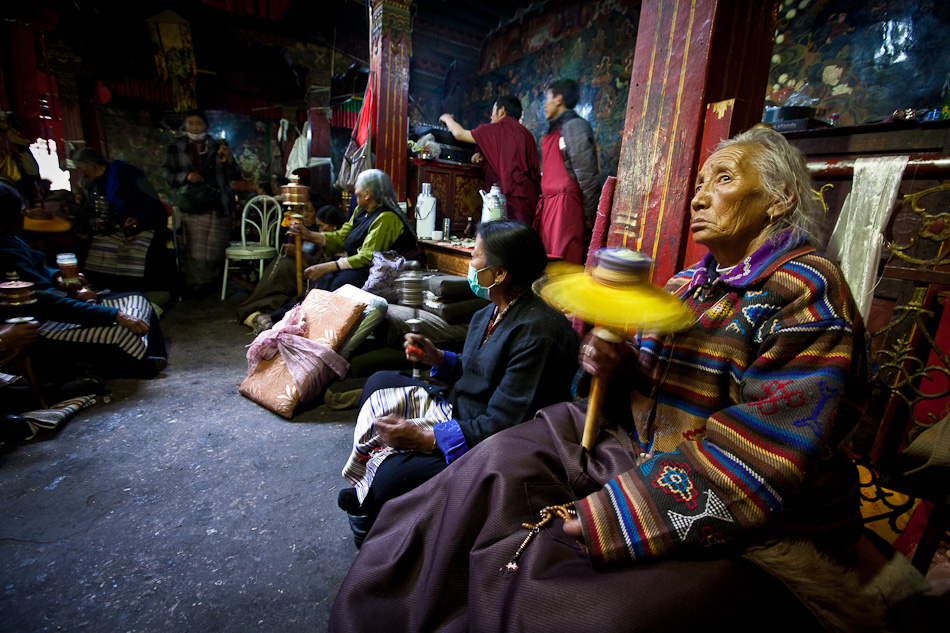 What stuck out to you the most looking back on your experiences in Tibet?
Lot's of things stick out, but for me it was the remoteness of the place. I felt there was a "otherworldly" dimension to Tibet and its culture.  I have no doubt that this adds to the mystery and mystique of the region.  It's wholly unique. And of course, this is exactly what a photographer like me is looking for.  My experience was fantastic.